Use Following Steps & Send Custom SMS:
1) Prepare first excel sheet with your custom data & save it in CSV(Comma delimited) format.

2) Login to our SMS portal For Login Process visit here.
3) Inside login left Side in the menu click on Send Custom SMS Option.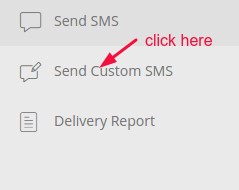 4) After that click on Browse… option and upload there your CSV file.

5) After uploading CSV file in Mobile No. Section, you can select their Mob. No. column from the sheet.
6) In the Message Type Section, you can type your message and at the place of Customs data, you can select proper data columns from the sheet.
7) After completing the Message typing you can click on Preview SMS option & check your SMS how it looks like.If all fields are looking properly then you can click on Send SMS Now option & send Custom SMS as well.
8) After sending Custom SMS you can check Delivery Report.