Jio Trueconnect DLT Header Registration (Sender ID)
Once your principal entity is registered with Jio, then you can apply for header. Login to your DLT account and click on Header SMS >> Header SMS Registration.

Promotional Header Registration: If you want to send purely promotional SMS then you need to register promotional header on Jio DLT. Promotional header will be 6 digit numerical header.
Promotional Headers should start with the number that matches with the category (as per DND Preferences).
1. Banking/Insurance/Financial products/ credit cards.
Ex: 123890, 154987
2. Real Estate
Ex: 234567, 264789
3. Education
Ex: 397134, 321456
4. Health
Ex: 467931, 444654
5. Consumer goods and automobiles
Ex: 582974, 564123
6. Communication/Broadcasting / Entertainment/IT
Ex: 631469, 693147
7. Tourism and Leisure
Ex: 789456, 714369
8. Food and Beverages
Ex: 896321, 816934
0 (Zero) Others – Category that doesn't appear in 1-8
Ex: 012389, 098654
Transactional & Service Header Registration: If you are sending informational and critical alert SMS then you can register other category header. You can get 6 characters alphabetic header like ABCCOM, SSDIND etc. Kindly note you can only get header on behalf of your registered business name only.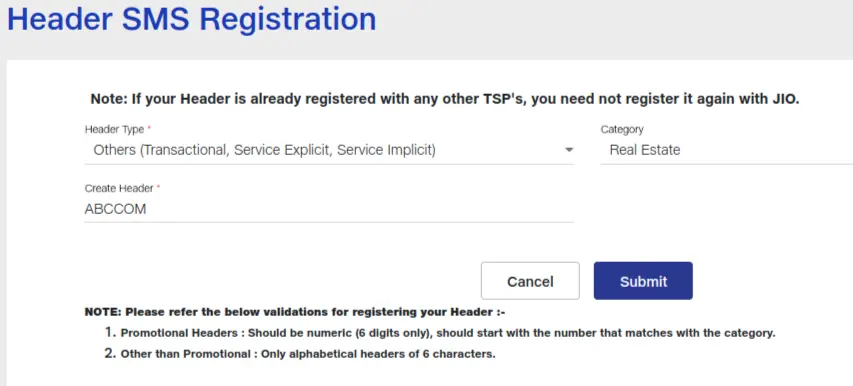 Note: Jio DLT header registration require 24- 48 working hours. You can contact Jio DLT support team [email protected].
What's Next?